GLH partners around the world
40
Countries
129
Partners
Green Legacy Hiroshima was established to safeguard and spread worldwide the seeds and saplings of Hiroshima's A-Bomb survivor trees. It is hoped that many partners will join this initiative and become active ambassadors in their countries of Hiroshima, its peace message and its green legacy.
グリーン・レガシー・ヒロシマは広島の被爆樹木を守り、その種や苗木を世界中に送り届けるために設立されました。多くのパートナーがこのイニシアチブに参加し、自分たちの国における広島と平和のメッセージ、「緑の遺産」の大使となってくれることを期待しています。
---
Partners in Profile entry for May 2023 features Elinor Breman, Senior Research Leader, Kew Gardens, Wakehurst, United Kingdom.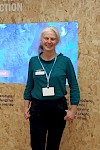 ---
Will Matsuda is a Japanese American photographer based in Portland, Oregon. His grandmother was living in Hawaii in 1945 when she lost most of her family in Hiroshima to the atomic bomb. Matsuda recently wrote a New York Times Op-ed about finding an unlikely connection in Oregon to his family history: hibakujumoku Ginkgo trees planted by GLH partner Hideko Tamura Snider as part of the Sunny Day Initiative. Matsuda has created a photography collection on these Gingkoes.
To find out more, click here to read the article on the New York Times website.
---
The hibakujumoku were recently featured in Eden Magazine, a Belgian nature and gardening magazine. Author Marie-Noëlle Cruysmans, touched by the message and power of Hiroshima's survivor trees, wrote about their story.
Article published in the Spring-Summer issue of Eden Magazine nr. 76 – Dutch version and nr. 74 – French version, with a circulation in the Benelux and France of 75.000 copies – www.edenmagazine.be
Click here for a PDF of the article in French.
---
Partners in Profile entry for May 2023 features Gerardo Avalos, Professor, University of Costa Rica, Costa Rica.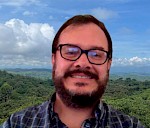 ---
From April 12th through April 15th, 2023, the Harvard Graduate School of Design held a symposium and exhibition called "Front Door: Dialogue for Our Future on Planet Earth" aimed at raising awareness of environmental challenges and advocating for a future both peaceful and sustainable.
Click here to read more.
---
In December 2022, GLH held its annual seed-picking of hibakujumoku seeds around Hiroshima Castle and in Atagoike. Click this link or the picture below to watch a short video recounting the day.
---
The Sunny Day Initiative has planted 48 hibakujumokus in 32 cities and towns across Oregon, thanks to the tireless efforts of Hideko Tamura-Snider, the Oregon Community Trees and the Oregon Department of Forestry.
To learn more about this inspiring endeavor, click this link or the picture below to access the Oregon Department of Forestry's website (includes map of planting locations).
---
NHK World's recent and moving documentary ahead of the May 2023 G7 Summit in Hiroshima — the first part on the efforts of the infatigable A-Bomb survivor Sadao Yamamoto, the second on GLH's revered master gardener, Chikara Horiguchi.
Please click here or on the image below to watch.
---
In early November 2022, GLH had the pleasure to host plant scientists and botanic garden experts from renowned institutions in the United States, who visited Hiroshima to observe and study the Hibakujumoku firsthand. The delegation included Ari Novy from the San Diego Botanic Garden (and a member of GLH Committee), Todd Michael and Wolfgang Busch from the Salk Institute for Biological Studies, Nicole Cavender from the Huntington Botanical Gardens, and Philip Douglas from the Denver Botanic Gardens.
To read more about the trip, click this link.
To watch an interview from the scientists, click this link or on the video below.
---
Partners in Profile entry for January 2023 features Ann Sherif, Professor, Oberlin College, Oberlin, Ohio

---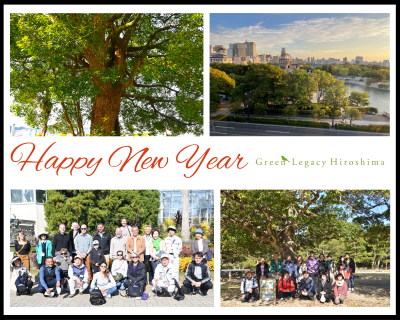 Many greetings and best wishes at the start of 2023. We hope that you are healthy and well, and that our collective "green solidarity" and the story of Hiroshima's resilient Hibaku-jumoku a balm for all in these uncertain times.
---
GLH Regional Seed Hubs
San Diego Botanic Garden (SDBG) in San Diego, California, the College of Agriculture, Food & Rural Enterprise (CAFRE) in Northern Ireland, and the Universidad Austral de Chile (UACH) in Chile
We are delighted that the SDBG, CAFRE, and UACH have agreed to become GLH regional seed hubs. We hope their help will facilitate sharing A-bombed tree seeds with more partners in the United States, United Kingdom, and Latin America.
---
Dr. Eoin Lettice appeared on Irish national television to tell the story of the seeds of survivor Ginkgo biloba trees in Cork, Ireland and demonstrate the hope they symbolize. Green Legacy Hiroshima's relationship with Dr. Lettice and the University College Cork Arboretum has allowed survivor seeds to be planted and germinate 10,000 km away from Hiroshima.
---
The Afghan Fellowship Legacy Projects (AFLP):
Botanical Gardens Network (BGNet) page was born. Please click here or the below logo and find the detail.
---
---
See here for 2021-2022 Hibaku second-generation seeds availability for dispatch.