GLH partners around the world
38
Countries
124
Partners
Green Legacy Hiroshima has been established to safeguard and spread worldwide the seeds and saplings of Hiroshima's A-Bomb survivor trees. It is hoped that many partners will join this initiative and become active ambassadors in their countries of Hiroshima, its peace message and its green legacy.
Best wishes from Green Legacy Hiroshima
---
Partners in Profile The entry for January 2022 features Dr. Hideko Tamura-Snider, Chairperson, One Sunny Day Initiatives, Oregon.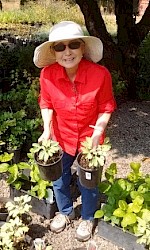 ---
Partners in Profile The second entry for December 2021 features Ari Novy, PhD, San Diego Botanic Garden, California.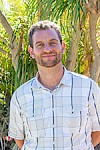 Partners in Profile The December entry for 2021 features Sharapiya Kakimova, PhD, National Agency for Research and Development, Chile.

Partners in Profile The second entry for November 2021 features one of our partners from Sweden. Kourosh Lotfi, MD, Linkoping Medical University, Linkoping.

Partners in Profile The November entry of 2021 features GLH's partner in the Netherlands. Dr. Rinny E. Kooi, Botanical Curator, Singelpark.

---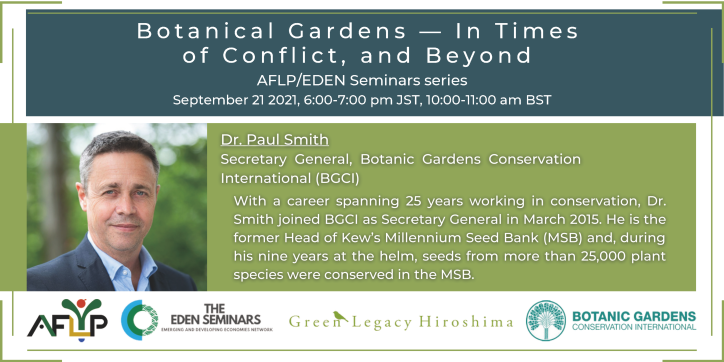 The Webinar, Botanical Gardens - In Times of Conflict, and beyond, cohosted by GLH, AFLP, EDEN seminar, and BGCI, was held on 21st September 2021. We wish to thank all who attended the interview with Dr. Paul Smith and Prof. Monte Cassim — thanks to them and the wonderful speakers, it was an inspiring and informative hour. We are grateful to BGCI colleagues, for their flexibility and intellectual generosity in preparation of the session. You can find the recording and other relevant documents below.
Recording https://www.youtube.com/watch?v=QW1Nvqw4Df0
Botanic Garden Conservation International https://www.bgci.org
The Global Tree Assessment https://www.bgci.org/our-work/projects-and-case-studies/global-tree-assessment/
The Afghan Fellowship Legacy Projects/Botanical Gardens Network https://aflp.unitar.org
The EDEN Seminars https://www.edenseminars.org
Tools for self reliance Japan http://www.tfsr.jp/english-1.html
---
San Diego Botanic Garden (SDBG) in California, and the College of Agriculture, Food & Rural Enterprise (CAFRE) in Northern Ireland
We are delighted that the SDBG and CAFRE have accepted to become GLH regional hubs.  We hope their help will facilitate the sharing of A-bombed tree seeds with more partners in the US and UK.
---
In July 2021, we marked the 10th anniversary of Green Legacy Hiroshima, a milestone worth celebrating.  The short video below created by Yuko Baba, hopefully captures some of the highlights and beautiful partnerships of this past decade.
---
Thanks to Mr. Chris Moore and the UNITAR Hiroshima Office, we are excited to share two videos focusing on GLH and A-bombed buildings and trees, made for the 2021 Nuclear Disarmament and Non-Proliferation Training Programme. Held on March 2021 online, it aimed to provide a deeper understanding of what happened in Hiroshima and the subsequent sacrifices and efforts of the citizens and the local government.
GLH: https://youtu.be/EoeLrYfPcZs
A-Bombed Buildings and Survivor Trees_Disarmament_2021: https://www.youtube.com/watch?v=uHm9_2JttPU
---
Partners in Profile July 2021 Entry features Dr. Tetsuya Sera, Director of the Hiroshima Botanical Garden, and Dr. Shuichi Hamatani, Assistant Director of Management Section, Hiroshima Botanical Garden
---
The Afghan Fellowship Legacy Projects (AFLP):
Botanical Gardens Network (BGNet) page was born. Please click the below logo and find the detail.
---
---
Hiroshima-Nagasaki Midpoint Planting Ceremony
---
See here for 2021-2022 Hibaku second-generation seeds availability for dispatch.