November 2020:
The GLH committee meeting took place online and in-person (In response to the COVID-19 situation) at the UNITAR office on the 30th of November. Many topics and ideas were raised — it was wonderful to feel the energy of our committee members after such a long absence. COVID-19 may have limited our daily physical activities, but we keep moving forward in other ways!
November 2020:
The Hibaku-jumoku Exhibition is being held at the Hiroshima Botanical Garden, where you can find information on various activities related to the Hibaku-jumoku. Mr. Chikara Horiguchi, GLH master gardener, gave a lecture named "Preserve the Hibaku-jumoku" to share his experience and dedication to sustaining the survivor trees. Around 60 participants, including many youths, learned about the trees and were inspired by his insightful opinions.
November 2020:
GLH Seed-picking 2020 (See a short video here)
On November 14th the GLH team and partners gathered under the Kurogane holly tree at Hiroshima Castle, for one of our precious annual seed-picking events. This year, due to the COVID-19 situation, it was perforce a smaller group/event compared to previous years. Still, the gathering was a peaceful moment for all, and we felt overwhelmed by the generosity of the Hibaku-jumoku.
Two weeks later, and based on the request from Shukkeien Garden, only three members — our coordinator Nassrine Azimi, Master Gardener Chikara Horiguchi, and Yuko Baba of GLH secretariat — could conduct seed picking at Shukkeien Garden on December 1st. Though almost all the leaves of the majestic Ginkgo biloba had fallen, we found that the seeds had not yet rotted, and instead were sleeping under a carpet of golden leaves. We happily collected nearly 1,000 seeds in total — how generous these trees are!
We would like to thank the trees and our master gardener, and all gardeners, who take care of them. We hope to continue this important mission, and these wonderful seed-picking gatherings, well into the future.
August 2020:
On this 75th anniversary of the atomic bombing of Hiroshima, when words no longer suffice, GLH team simply decided to share with our partners worldwide glimpses of some of the Hibaku-jumoku closest to us. These splendid A-bombed trees, and their descendants, are our collective hope, and as peace ambassadors from Hiroshima they continue to disseminate their message of caution and hope for our beautiful, fragile and common planet.
With you in thought – Nassrine, Yuko, Jenny and Taiga
From left to right,
① Weeping Willow (Salix babylonica), Motomachi riverbank of the Ota River, ㉞ Weeping Willow (Salix babylonica), Eastern foot of Tsurumi Bridge, ⑦ Eucalyptus (Eucalyptus melliodora), Hiroshima Castle
---
Green Legacy Hiroshima has been going strong. Please check below for some recent and moving coverage, including a beautiful BBC World piece in Spanish writing of our co-founder Tomoko Watanabe and her mother (an atomic bomb survivor) as well as our partners in Chile and Columbia. We have also added, thanks to GLH friends, a rough English translation of the National Bulgarian Radio interview with GLH.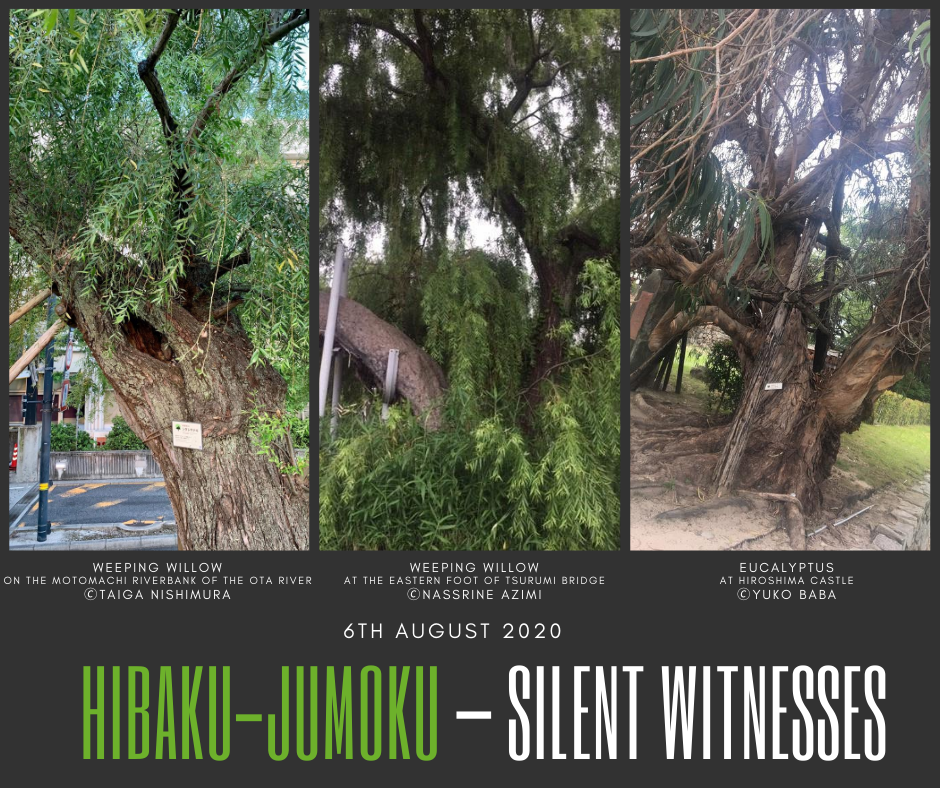 May 2020:
A short and tender ode to Hiroshima, its survivor trees and GLH - thanks to The BBC and Tomoko-san.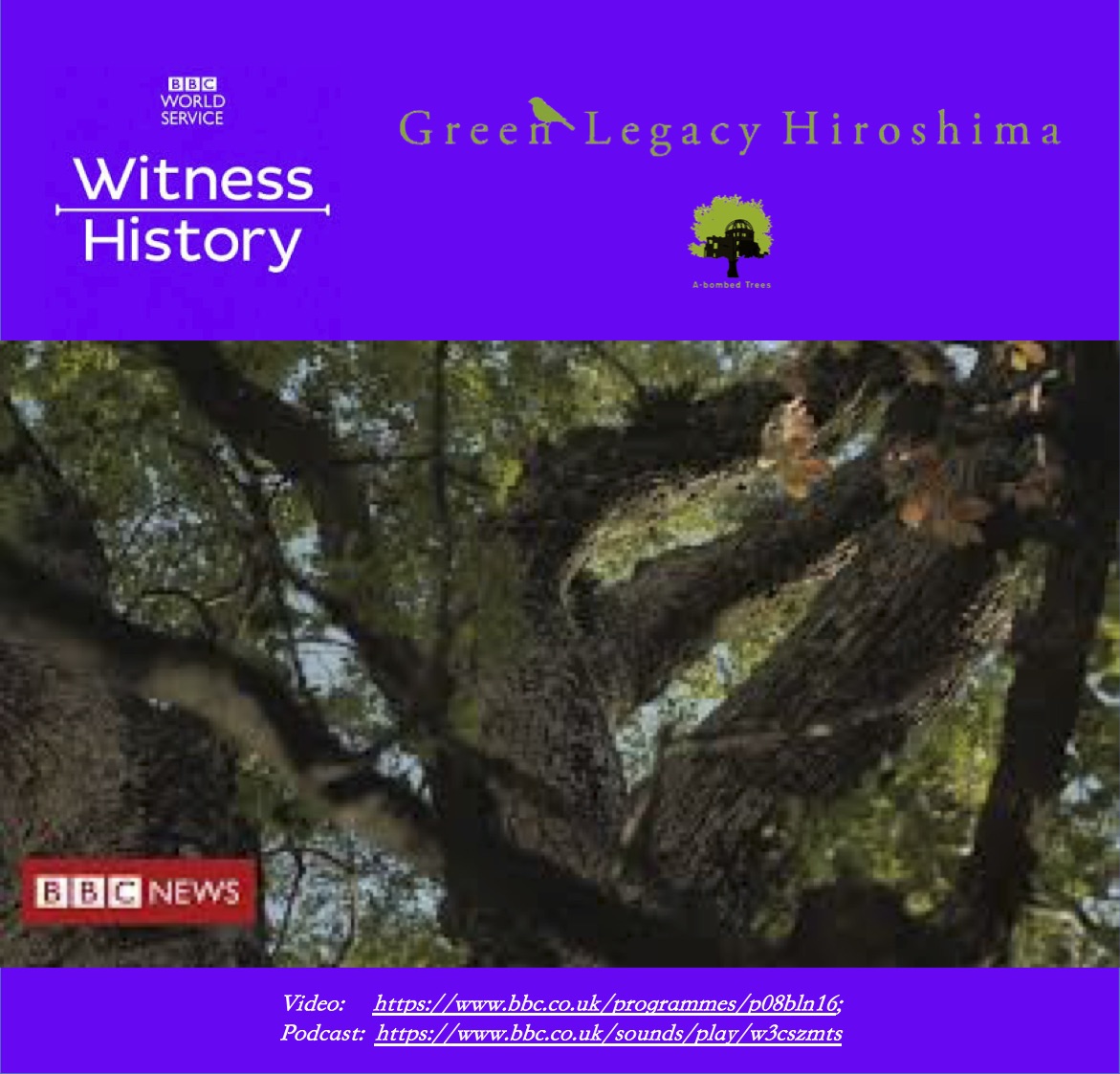 SHOW MORE OF Activities in Hiroshima