Each month Partners in Profile features one GLH global partner, so as to better present the guardians and caretakers of Hibaku-Jumoku descendants around the planet. The profiles will explore what the Hiroshima survivor trees and partnership with GLH mean for our partners, their passion for peace, and their vision for the future. Click on the link to see the full profile.
---
Entry 1. June 2019 - Dr. Sergei Shaposhnikov, Moscow State University, Russia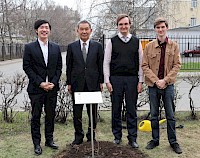 The first feature in this series is on Dr. Sergei Shaposhnikov, Professor at Moscow State University (MSU). GLH Master-Gardener Mr. Chikara Horiguchi interviewed him during a recent visit to MSU in late April 2019.
Photo: a planting ceremony on 23 April 2019 at MSU, center left stands Master Chikara Horiguchi, center right stands Dr. Sergei Shaposhnikov.