Partners in Profile features one GLH global partner, so as to better present the guardians and caretakers of Hibaku-Jumoku descendants around the planet. The profiles will explore what the Hiroshima survivor trees and partnership with GLH mean for our partners, their passion for peace, and their vision for the future. Click on the link to see the full profile.
---
Entry 3. September 2019 - Dr. Vladimir Rouvinski, Icesi University, Columbia (PDF)
As an international relations scholar, my links to GLH and Hiroshima have been helping me in defense of the view that International Relations as a discipline is responsible for contributing scientific knowledge to the decision-makers so that we can avoid repeating a tragedy as the one that stroke Hiroshima...
The September entry features Dr. Vladimir Rouvinski, former staff of UNITAR Hiroshima Office who obtained his master's and doctoral degree in Peace Studies from Hiroshima University. Originally from Russia, Dr. Rouvinski currently teaches International Relations at Icesi University, Cali, Columbia, aiming to strengthen the bond between Japan and Columbia.
Photo: Dr. Rouvinski with Hibaku sapling on the campus of Icesi University.
---
Entry 2. August 2019 - Marie Louise Towari, NPO "Think about Education in Rwanda" and Umuco Mwiza School, Rwanda (PDF)
The August entry features Marie Louise Towari, Chair of Japan-based NPO Think About Education in Rwanda who experienced many turbulences, in Rwanda and in Japan, and who is now devoted to volunteer and advocacy work for Rwandan children.
The narrative was originally written in Japanese and was adopted in English by GLH Secretariat team. The Japanese version will also be posted soon.
Photo: Marie (middle left) with GLH co-founders, Tomoko Watanabe (left) and Nassrine Azimi (middle right), and ANT-Hiroshima Staff, Masami Yamamoto.
---
Entry 1. June 2019 - Dr. Sergei Shaposhnikov, Moscow State University, Russia (PDF)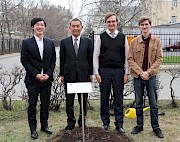 The first feature in this series is on Dr. Sergei Shaposhnikov, Professor at Moscow State University (MSU). GLH Master-Gardener Mr. Chikara Horiguchi interviewed him during a recent visit to MSU in late April 2019.
Photo: a planting ceremony on 23 April 2019 at MSU, center left stands Master Chikara Horiguchi, center right stands Dr. Sergei Shaposhnikov.