GLH partners around the world
36
Countries
105
Partners
Green Legacy Hiroshima has been established to safeguard and spread worldwide the seeds and saplings of Hiroshima's A-Bomb survivor trees. It is hoped that many partners will join this initiative and become active ambassadors in their countries of Hiroshima, its peace message and its green legacy.
On this 75th anniversary of the atomic bombing of Hiroshima, when words no longer suffice, GLH team simply decided to share with our partners worldwide glimpses of some of the Hibaku-jumoku closest to us. These splendid A-bombed trees, and their descendants, are our collective hope, and as peace ambassadors from Hiroshima they continue to disseminate their message of caution and hope for our beautiful, fragile and common planet.
With you in thought – Nassrine, Yuko, Jenny and Taiga
From left to right,
① Weeping Willow (Salix babylonica), Motomachi riverbank of the Ota River, ㉞ Weeping Willow (Salix babylonica), Eastern foot of Tsurumi Bridge, ⑦ Eucalyptus (Eucalyptus melliodora), Hiroshima Castle
---
Green Legacy Hiroshima has been going strong. Please check below for some recent and moving coverage, including a beautiful BBC World piece in Spanish writing of our co-founder Tomoko Watanabe and her mother (an atomic bomb survivor) as well as our partners in Chile and Columbia. We have also added, thanks to GLH friends, a rough English translation of the National Bulgarian Radio interview with GLH.
---
Partners in Profile September 2020 Entry features Tiziana Volta, Activist, Italy
---
Partners in Profile August 2020 Entry features Gareth Evans, Former Australian Foreign Minister, Distinguished Honorary Professor at The Australian National University
---
Eight A-bomb Haiku by David Krieger, July 2020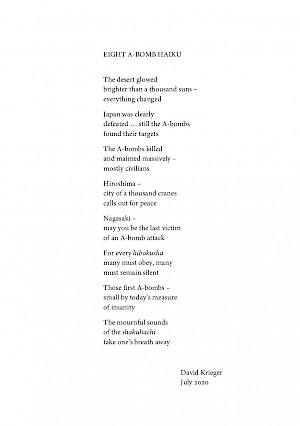 ---
---
Hiroshima-Nagasaki Midpoint Planting Ceremony
---
See here for 2019-2020 Hibaku second-generation seeds availability for dispatch.