Kirstenbosch National Botanical Garden
September 2017:
Tomoko Watanabe, Co-Founder of GLH, visited the saplings at Kirstenbosch during her trip to South Africa. She also took part in a planting ceremony at the Cape Town Holocaust Centre. 
Adam Harrower, Senior Botanical Horticulturist at Kirstenbosch, has arranged to take the remaining saplings to Vergelegen, where they will be planted in Vergelegen's arboretum. He also gave Willem Pretorius, a bonsai expert at the Stellenbosch Botanical Garden, many Kurogane holly seedlings, which Mr. Pretorius plans to cultivate into a Hiroshima bonsai forest.
November 2016:
A public planting of Kurogane holly was held; persimmon and camphor are planned to be planted next. Kirstenboch Botanical Garden has become a hub of activity following the first batch of seeds sent in 2012. 
May 2016:
The persimmon sapling raised at the Kirstenbosch Botanical Garden was shared in a local publication.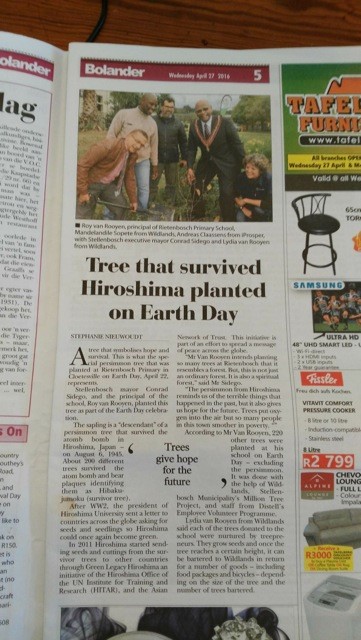 July 2015:
All four species have germinated exceptionally well and are thriving in the glasshouses at Kirstenbosch. Kurogane holly and camphor already exceed 2 meters in height. All four species will be planted in a specially prepared site within Kirstenbosch in September 2015.