Botanical Garden of Vilnius University
August 2017:
The Botanical Garden held an event on 6 August to commemorate the Hiroshima bombing in 1945. A ginkgo, grown from seeds from Hiroshima, was planted as a symbolling peace tree by H.E. Ambassador of Japan to Lithuania Toyoei Shigeeda and Botanical Garden Director Audrius Skridaila. Lanterns, made by Lithanian children, were launched in a nearby pond, accompanied by traditional Japanese music. Mrs. Michiko Shigeeda organized an ikebana workshop in the Garden museum. The workshop began with a minute of silence for the victims of Hiroshima, and Mrs. Shigeeda also presented a book with pictures of Hiroshima after bombing in 1945. 
July 2015:
Ginkgo seedlings are growing healthily in the Botanical Garden. They are about 30 cm tall and, in order to adapt to the Lithuanian climate, they have been relocated to an outdoor bed.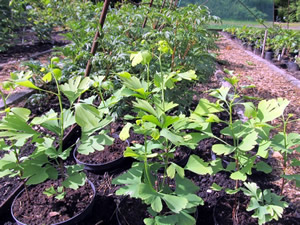 October 2014:
Seeds successfully germinated, and the garden hopes to plant the seedlings in the garden next year.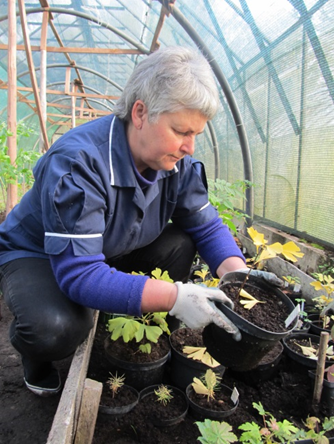 April 2014:
Ginkgo seeds arrived safely in Vilnius and were planted in pots. The botanists will initially keep them in the greenhouse and after germination will plant them outdoors. The Botanical Garden has a Japanese garden open to the public, and in the future the mature ginkgo will be planted close to the entrance.