March 2017:
Perseverance of GLH partners at the Tehran Peace Museum and The Hiroshima Botanical Garden bears fruit: The ginkgo survived Tehran's severe winter weather.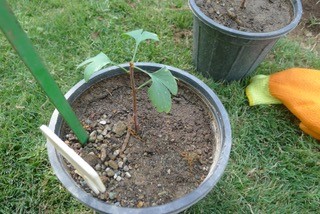 September 2013:
The five ginkgo saplings are growing; however, there are concerns that they are not well-adjusted to their new environment. The Peace Museum is looking for more suitable sites.
The staff of the Tehran Peace Museum had worried about the health of Ginkgo saplings, so following advice of their gardeners and a gingko specialist, on 9 October they planted four small ginkgo saplings near the southern wall of the museum, close to the gardening center and a large ginkgo tree that has been living in the city park for decades. They hope the saplings will thus survive the cold and dry autumn and winter climate of Tehran and flourish in their new site. 
March 2013:
Ginkgo seeds have started germinating. 
Ginkgo seeds were delivered to the Tehran Peace Museum (TPM), thanks to the Hiroshima-based NPO group MOCT. Seeds will be cared for by the Center for Gardening Education. When mature, the tree will be planted inside City Park, accross from the TPM building. 
On 11 March 2013, during an event organized by the Tehran Peace Museum to welcome spring and also to mark, in solidarity with the people of Japan, the 11 March 2011 disaster, children and the TPM volunteers planted ginkgo seeds. The pots were then handed over to the center's greenhouse for further protection and support.