International Committee of the Red Cross
August 2013:
A planting ceremony took place at the International Committee of the Red Cross (ICRC) headquarters in Geneva, Switzerland. The gingko sapling, delivered last month by a UNITAR team to the ICRC headquarters, is doing well. Mr. Patrick Bailo, responsible for the ICRC gardens, praised the tree and confirmed its readiness for planting during a special ceremony on 6 August.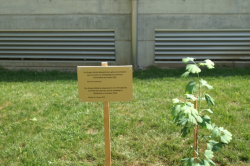 Municipality of Saint-Sulpice
October 2015:
Ginkgo sapling were delivered to the municipality of Sait-Suplice, to be planted on college grounds in the future.
Renens City (a Mayors for Peace member city)
July 2015:
Ginkgo seeds were dispatched and receipt confirmed.
United Nations European Headquarters
October 2016:
On 3 October 2016, a gingko sapling was planted by UN Secretary-General Mr. Ban Ki-moon on the grounds of Ariana Park, at the UN European Headquarters in Geneva. Arborist Chikara Horiguchi represented GLH at the ceremony.
May 2016:
The ginkgo to be planted by the UN Secretary-General in the fall was given by Mayor Matsui to Mr. Michael Moller, director-general of the United Nations European Headquarters at Geneva, on 2 May 2016.