International Committee of the Red Cross
October 2018:
….meanwhile at the ICRC Headquarters in Geneva, the Ginkgo just keeps getting taller—since 2013 this is what generous Nature has accomplished!
August 2013:
A planting ceremony took place at the International Committee of the Red Cross (ICRC) headquarters in Geneva, Switzerland. The gingko sapling, delivered last month by a UNITAR team to the ICRC headquarters, is doing well. Mr. Patrick Bailo, responsible for the ICRC gardens, praised the tree and confirmed its readiness for planting during a special ceremony on 6 August.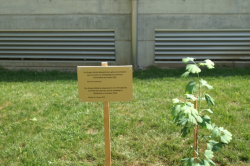 Municipality of Saint-Sulpice
October 2015:
Ginkgo sapling were delivered to the municipality of Sait-Suplice, to be planted on college grounds in the future.
Renens City (a Mayors for Peace member city)
July 2015:
Ginkgo seeds were dispatched and receipt confirmed.
United Nations European Headquarters
October 2016:
On 3 October, 2016, the gingko sapling was planted by UN Secretary-General Mr. Ban Ki-moon in the grounds of Ariana Park of the UN Office at Geneva. The planting ceremony was attended by arborist Chikara Horiguchi on behalf of GLH, and Mayor Durnez of Ypres, Belgium, representing Mayors for Peace as a Vice President as well as UNITAR represetatives.
May 2016:
A second generation A-bombed ginkgo sapling, which will be planted by the UN Secretary-General in the fall, was donated by Mayor Kazumi Matsui of Hiroshima City, President of Mayors for Peace, to Mr. Michael Moller, Director-General of the United Nations Office at Geneva on 2 May, 2016.
This ginkgo sapling was originally offered by the City of Luzern, a member city of Mayors for Peace, which has nurtured trees from seeds of an A-bomb survivor ginkgo tree in Shukkeien Garden in Hiroshima City as part of a Mayors for Peace initiative.